Who should be our best and strongest ally … not the USA ?
If the world had paid more attention and if anti-semitism had been dealt with more positively Hitler could have been easily thwarted before rearming Germany.
Instead the "West" ran a policy of punishing all Germans with financial penalties - called reparations - and from the depths of German poverty (including the destruction of middle class savings via hyper inflation) - Hitler not only prospered but reached heights of popular support almost unequaled in history.  All because the West wanted financial revenge against everyone in Germany instead of peace and justice for EVERYONE in Europe.
The same lesson applies today in relation to China.  Everything that is unfair, undemocratic and wrong in China should be actively opposed by the entire civilised world, but the onward path of the Chinese to greater world prosperity should be encouraged and supported.
This brings us to our slavish worship of everything American, from sugary soft drinks, to violent computer games and films, and indiscriminate arms sales by the American military industrial complex to more than 100 countries in the world, not to mention the weapons of war owned and used by individual Americans against other Americans in wholesale slaughter as so insanely enshrined in the American constitution.
So where is the truth economically ?
Which country has the stronger economy of the two ... China or America?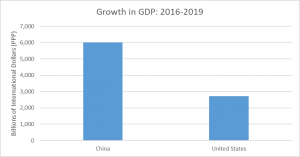 Source: International Monetary Fund.
As can be seen, China's growth has been more than twice as large as the growth in the United States since Donald Trump came into the White House. In other words, we should put Donald Trump's claim that his policies have somehow secured the United States' status as the world's leading economy alongside his copy of President Obama's Kenyan birth certificate.
November 29, 2019 at 8:55 pm

November 29, 2019 at 9:37 pm

November 29, 2019 at 10:18 pm

November 29, 2019 at 11:57 pm

November 30, 2019 at 3:07 am

November 30, 2019 at 4:57 am